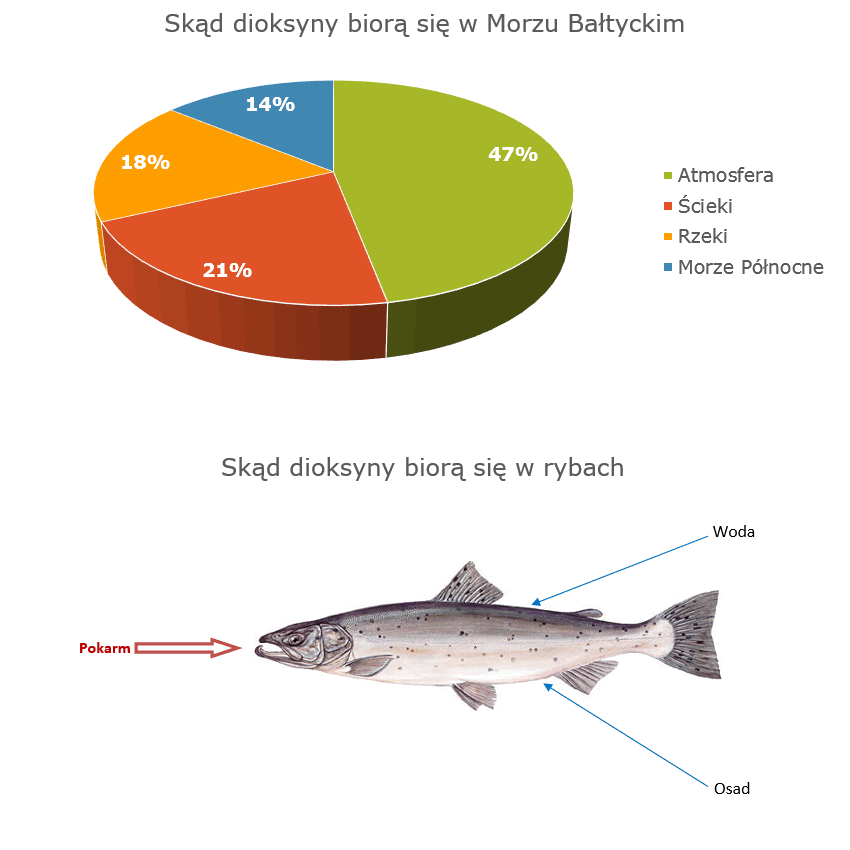 How do dioxins get into the Baltic Sea
Atmosphere
Sewage
Rivers
the North Sea
How do dioxins get into fish
Dioxins are industrial by-products which, among others, appear during the burning of municipal and industrial waste which contain chlorine with an insufficient oxygen supply, during forest fires, when burning diesel oils which contain chlorine and in the regular home furnaces. Their presence in the environment is largely connected with human activity.
These substances are toxic. They accumulate in fat and occur in Baltic fish in larger concentrations than in other food products.
Risks to human health connected with dioxins:
Toxic impact on the skin – chloracne – irregular eruptions on the skin surface with thickenings and lumps
Changes in the thyroid hormone levels which result in a impairment of psychomotor capability
Cancerogenicity (lung cancer, gastrointestinal cancer)
Danger to women in the first trimester of pregnancy – death of the embryo or development of malformations.
POLLUTANT
MAXIMUM LEVEL APPLICABLE UNTIL 2012 AT TEF1998
MAXIMUM LEVEL APPLICABLE UNTIL 1ST JANUARY 2012 AT TEF2005
Fish meat and the products derived from it
Total of (WHO-PCDD/F-TEQ) dioxins
4 ng/kg fresh mass
3.5 ng/kg fresh mass
Total of dioxins and polychlorinated biphenyls with properties similar to (WHO-PCDD/F + dl-PCB-TEQ) dioxins
8 ng/kg fresh mass
6.5 ng/kg fresh mass
Total of indicator polychlorinated biphenyls (ndl-PCB)
-
75 µg/kg fresh mass
Eel's muscle tissue
Total of (WHO-PCDD/F-TEQ) dioxins
4 ng/kg fresh mass
3.5 ng/kg fresh mass
Total of dioxins and polychlorinated biphenyls with properties similar to (WHO-PCDD/F + dl-PCB-TEQ) dioxins
12 ng/kg fresh mass
10 ng/kg fresh mass
Total of indicator polychlorinated biphenyls (ndl-PCB)
-
300 µg/kg fresh mass
Fish liver and products derived from it
Total of dioxins + dl-PCB
-
20 ng/kg fresh mass
Total of indicator PCB (ndl-PCB)
-
200 µg/kg fresh mass
TESTED MATERIAL
WHO-PCDD/F-TEQ [NG/KG]
WHO-PCDD/F + DL-PCB-TEQ [NG/KG]
NDL-PCB [ΜG/KG]
Fish muscle tissue
Cod
0.08
1.05
0.4
Herring
1.2
2.5
17.7
Sprat
2.2
4.68
35
Baltic salmon
3.5
9.5
44.7
Carp
0.08
0.14
1.4
Trout
0.07
0.39
5.3
Pollock
0.007
0.015
0.023
Sole
0.009
0.03
0.15
Pangasius
0.011
0.016
0.03
Tilapia
0.019
0.03
0.12
Fish products
Smoked mackerel
0.24
0.84
12.1
Smoked sprat
3.6
8.3
30.9
Smoked herring
0.66
1.44
9.5
Smoked Baltic salmon
4.53
13.12
42.7
Smoked Norwegian salmon
0.34
1.71
12.6
Smoked trout
0.12
0.58
4.9
Salted herring fillets
0.58
1.22
7.8
Marinated herring flaps
1
2.07
19.2
Baked mackerel in vinegar
0.41
1.37
10.1
Canned fish
Sprat in tomato sauce
1.8
4.1
23.5
Sprat in oil
2.6
5.6
35.7
Herring in tomato sauce
1.9
3.6
20.8
Gdańsk herring
1.8
3.6
24.7
Tuna in oil
0.36
0.39
9.1
Mackerel in tomato sauce
0.28
0.9
6.7
Mackerel in oil
0.33
1.09
9.7
Sardine in oil
0.68
2.96
12.8
Paprykarz szczeciński (canned fish spread)
0.7
1.6
9.7
Changes in the dioxins + dl PCB content in Baltic fish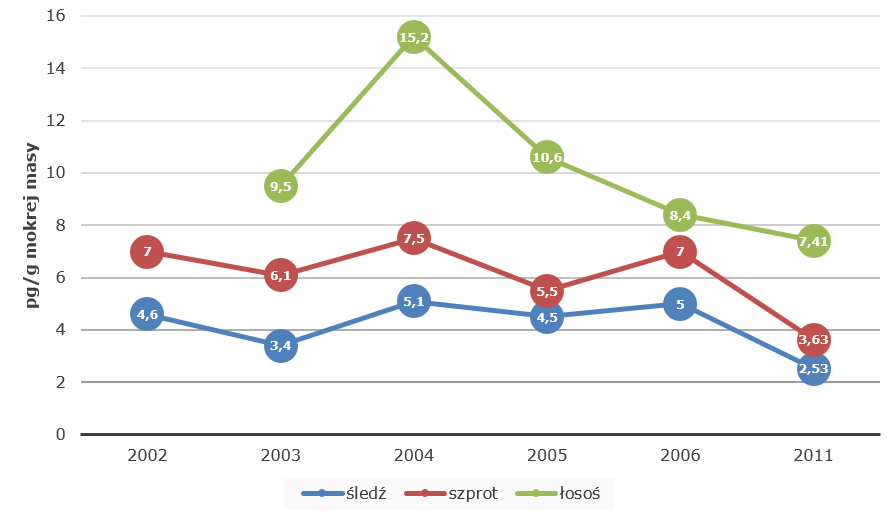 pg/g of wet weight
herring – sprat – salmon