NMFRI and the Independent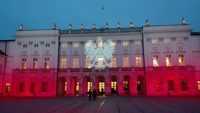 On the 11th of November 2016, the Director of the National Marine Fisheries Research Institute, Dr. Emil Kuzebski, once again, at the invitation of the President of the Republic of Poland Andrzej Duda, participated in the celebrations of the National Independence Day. This time, the ceremony began with Holy Mass for the Homeland, which took place in the newly opened Temple of Divine Providence in Wilanów. Another point of proceedings was the ceremonial changing of the guard at the Tomb of Unknown Soldier in Piłsudski Square. After this part of the ceremony, President Andrzej Duda met with the invited guests at the Presidential Palace. The meeting, although less formal, had a solemn character. It is worth emphasizing that dishes of Polish fish dominated at the table. Despite the large number of invited guests there was an opportunity to meet directly and have a short conversation with the President.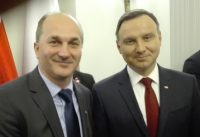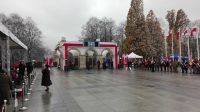 The Independence Day is a good opportunity to recall that the 95-year history of the NMFRI and the Institute's staff are closely linked with the fate of the independent Poland. Professor Kazimierz Demel (1889–1978), the co-founder of the first Sea Fisheries Laboratory in Hel, who fought for the independence of the country in the First Polish Corps under the command of general Józef Dowbór – Muśnicki (1917–1918) should be mentioned here among others. He received the Chivalry Cross for the campaign at the Volhynia front. He took part in battles at Radzymin (1920) and in the Third Silesian Uprising (1921) – awarded Górnośląska Valour Ribbon and Merit Second Class. Professor Mieczysław Bogucki (1884–1965) – After the outbreak of World War I he volunteered in October 1914 to the Polish Legions, and in January 1915 he was fighting at the front (first in the 2nd and 4th Infantry Regiment of the Legions). Due to the rheumatic disease he was forced to leave the Legions. He was in the rank of Warrant Officer then. In 1920 he briefly interrupted his scientific work and returned to military service for the duration of the Polish-Soviet war. He reached the rank of Second Lieutenant. Professor Antoni Jakubski (1885–1962) – from July 1, 1922 to October 1, 1923 Head of the Sea Fisheries Laboratory in Hel, he was a legionnaire during World War I (6th Infantry Regiment), he took part in battles at the eastern fronts during 1918-1920, among others in November 1918 he took part in the Polish-Ukrainian battles for Lviv. In July 1920 he became chief of staff of the 2nd Lithuanian-Belarusian Division, and in August this year, the quartermaster of the 5th Army. He was awarded twice in 1922 the Chivalry Cross, knight of the Virtuti Militari Cross, lieutenant colonel in the Army Reserve.
Posted on

18 November 2016

in News